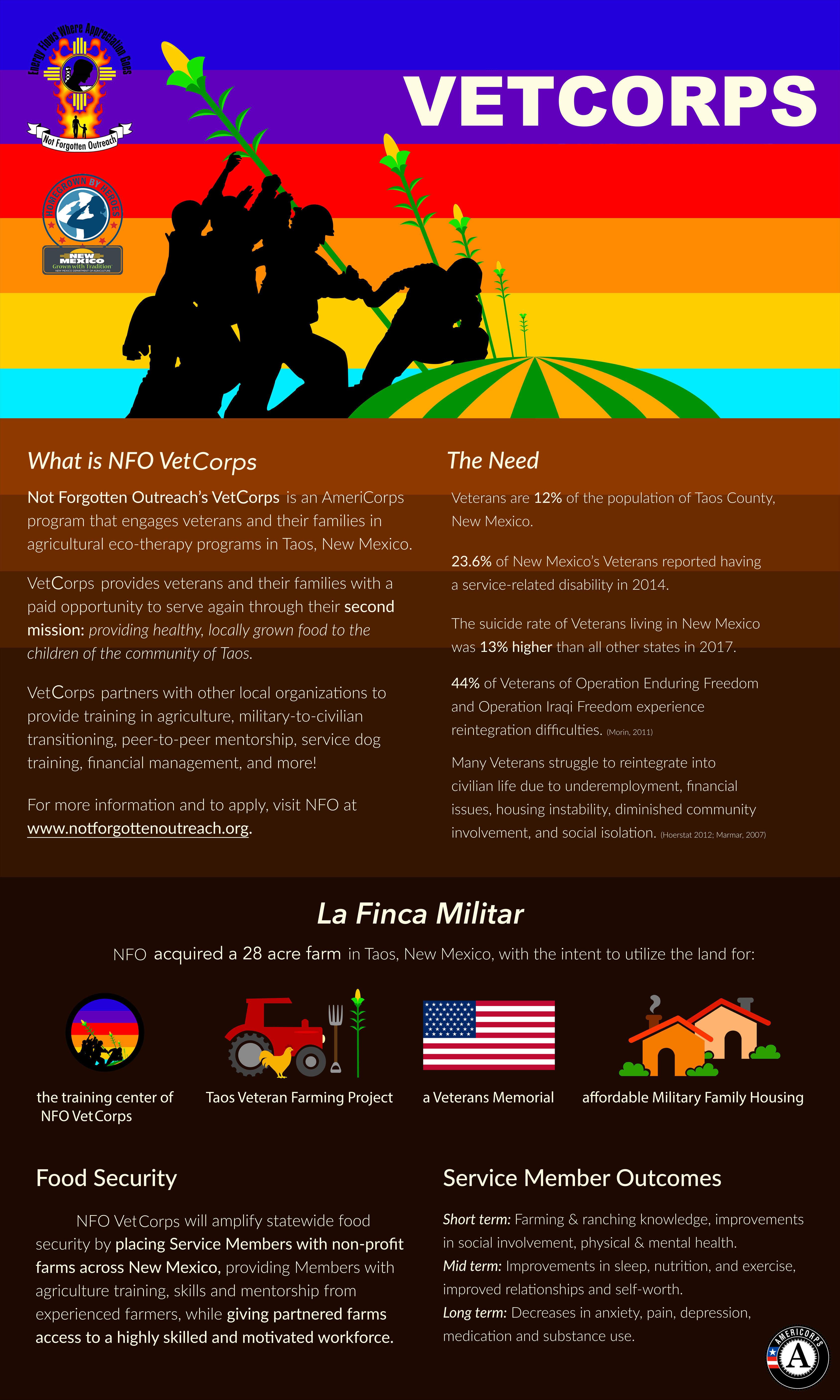 Not Forgotten Outreach VetCorps Corpsmember Position Description
The VetCorps Leadership Crew (VCLC) is the first of its kind.  NFO will train VCLC crewmembers to transition into a VetCorps Crew Leader in the Spring of 2019. As part of a crew and in preparation for a leadership role, this position will be demanding both physically and mentally. The VCLC will participate in agricultural projects at Not Forgotten Outreach and engage in therapeutic activities to strengthen the ability of veterans to transition successfully into civilian life. We offer veterans and their families a paid opportunity to engage in a second mission: feed local children and the community.
The VCLC is an AmeriCorps position requiring a minimum of 450 hours of service. Upon completion of service, members receive a Segal AmeriCorps Education Award of $1612.43.
Overview
Position Type: Seasonal, Part-Time, Non-Exempt, Living Stipend of $250/week before taxes
Schedule: 20 hours per week, 8:00 – 12:00, M-F
Reports to: VetCorps Coordinator
Location: Not Forgotten Outreach, Taos, NM
Responsibilities
Leadership – Effectively demonstrate leadership potential by:
• Communicating effectively with VetCorps Coordinator
• Managing project completion in order to meet goals and deadlines
• Completing required project paperwork correctly and within time constraints
• Resolving conflict using deescalating techniques
• Preparing for a crew leader position supervising VetCorps Crewmembers
Training – Participate fully in trainings to bolster:
• Agriculture skill development
• Peer-to-peer counseling capability
• Service dog training knowledge
Community Outreach
• Support Not Forgotten Outreach community events
• Work with community volunteers and other organizations to provide agricultural training
• Establish and develop relationships with community members including youth
Members may be offered the opportunity to help others during a natural disaster, if called upon.
Qualifications
Minimum Qualifications
• Armed Forces Veteran or immediate family member related by blood, marriage, or adoption of an Armed Forces Veteran.
• Commitment to the entire season (September 2018 – February 2019)
• Lift or move up to 50 pounds occasionally, up to 20 pounds frequently, and/or up to 10 pounds constantly.
• Clean, insurable driving record and the ability to operate a motor vehicle.
• Work outdoors in all weather conditions
• High School Diploma or GED
• Reasonable accommodations may be made to enable individuals with disabilities to perform essential functions.
~ Not Forgotten Outreach is an equal opportunity employer and does not discriminate against any individuals on the
basis of race, color, sex, gender, age, national origin, marital status, sexual preference, or disability. ~
Apply Today!