The Largest & Most Affordable Military Family Ski Event in the Nation at Taos Ski Valley Receives a VA Adaptive Sports Grant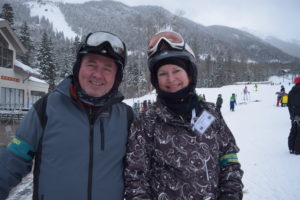 Taos Ski Valley, New Mexico – Taos Ski Valley (TSV) and Not Forgotten Outreach, Inc. (NFO) invite past and present Military Members, their immediate families, and Gold Star Families to enjoy the 6th annual Not Forgotten Outreach Ski Week, from January 22nd – 27th, 2019.
Providing an affordable week on the slopes, this opportunity includes free equipment rentals, $40.00-day lift tickets, group lessons, and steep discounts on lodging, Children's Ski School, childcare, and more. The event also incorporates group dining, encouraging participants to both spend time together as a family and build relationships with new friends. Through social connection and bonding opportunities, the whole family may reap the healing benefits of community.
Not Forgotten Outreach, Inc. is a Taos, New Mexico non-profit that brings together military families from all over the USA at Taos Ski Valley for a fun-filled experience on and off the slopes. The ski resort, started by WWII veteran Ernie Blake, provides a wonderful wintry setting for military members and their loved ones to take an affordable and accessible vacation. Lodging discounts to Military Families are graciously being offered by fourteen different hotels in the Taos area, including The Blake at Taos Ski Valley, El Pueblo Lodge, and El Monte Sangrado. Parents will also enjoy steep discounts at the new state-of-the-art Children's Center, where children of all ages learn using terrain-based-learning and Perfect Progression techniques; the kids will gain a level of on-snow comfort faster than ever before in a safe environment, so that parents can make the most of their time on the mountain!
Active duty Wounded Warriors Scholarships are available during the ski week: Through a VA Adaptive Sports Grant, NFO is offering five (5) scholarships for skiers/snowboarders currently on active duty with vision, intellectual/cognitive, or physical-related diagnoses. The scholarship includes meals, lodging, lift tickets, equipment, and lessons for the service member and their family members.
NFO's therapeutic and recreational opportunities for Disabled Veterans and Disabled Members of the Armed Forces provide a year-round "Whole Health Lifestyle" approach in adaptive sports to facilitate the healing process and overcome reintegration challenges. The program supports a Whole Health Lifestyle by providing opportunities to improve relationships, build camaraderie with other Disabled Veterans and Civilians, while also encouraging mindfulness, sports development, self-esteem, and personal well-being.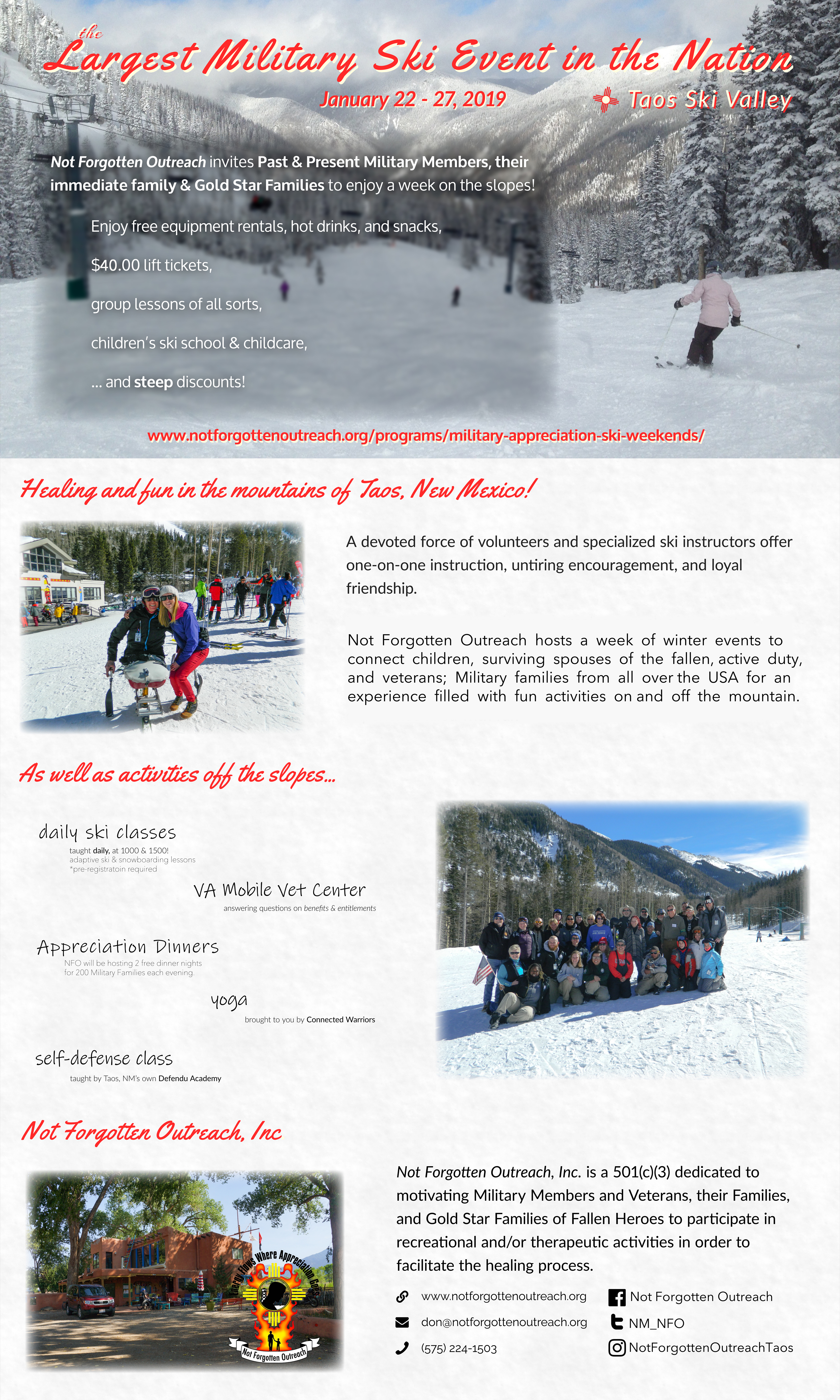 TSV Resort Deals & Discounts January 22nd – 27th, 2019
Eligibility: Active Duty, National Guard, Reservist, Veteran, Family Members, and Gold Star Families and their Family Members with military ID or other identification verifying military association.
Lift Tickets:
$40 / day
$3 from each lift ticket will be donated to Not Forgotten Outreach
Lessons
Lesson Type
Price
Details
Children Center
Full Day
$65
Childcare, Pre-school, Grade School, Middle School
Children Center
Half Day
$55
Childcare, Pre-school, Grade School, Middle School
Adult Snowsports
First Experience
$75
Lift ticket included
Adult Snowsports
Novice
$75
Lift ticket included
Adult Snowsports
Group Lesson
$40
Lift ticket NOT included
* No Discounts for Private Lesson
Adaptive Lessons
Fill out and submit participant packet http://www.skitaos.com
$2 from each lesson will be donated to Not Forgotten Outreach
Children's Snowsports School reservations required
And Broaden The Experience.
There's also plenty to do when participants aren't on the slopes.
Free Hot Drinks and Snacks at the Base (Tuesday through Sunday at 0900 – 1500)
Group Photo Thursday and Saturday at 1600
Connected Warriors Yoga every morning at 0900
Self-defense class, provided by Defendu Academy of Taos, on Wednesday at 10am
VA Mobile Vet Center will be available Saturday 10am – 2pm, to answer both active duty and veteran's questions on benefits entitlements
Thursday & Saturday night FREE Appreciation Dinner for 200 Military Families
Additionally, families may take an outing through Taos, exploring restaurants and the Historic Downtown Plaza, having fun with the kids at Twirl: A Play & Discovery Place, or visiting the 1,000+ year old Taos Pueblo.
Millennials Helping Military Families
We are again blessed to have an AmeriCorps Southwest Region NCCC team, each of team members has received over fifteen hours of training in military culture and military family lives, through the PsychArmor Institute. AmeriCorps NCCC will be on hand to help out during the event.
Volunteers deliver untiring encouragement and friendship
A devoted force of volunteers and specialized ski instructors offer one-on-one instruction, untiring encouragement, and loyal friendship. This bonding and mentorship are critical to the therapeutic value of the event. Using a volunteer team, Not Forgotten Outreach creates a week of events to connect the children and surviving spouses of the Fallen, Active Duty & Veterans with others going through the same experience. The Military Families who attend our annual events walk away knowing they are not alone, and that we honor the Sacrifice the Military Members made while serving our country. Want to help? https://www.volunteermatters.net/vm/SelfRegister.do?owner=notforgottenoutreach
About Not Forgotten Outreach, Inc.
Not Forgotten Outreach, Inc. is a 501(c)(3) dedicated to motivating Military Members and Veterans, their Families, and Gold Star Families of Fallen Heroes to participate in recreational and/or therapeutic activities in order to facilitate the healing process. Serving over 4,800 Military Families in 2017, NFO provides opportunities to improve relationships, build comradeship and at the same time enhance "Mindfulness" and personal well-being. For Further Questions and Sponsorship Opportunities please contact Don Peters, don@notforgottenoutreach.org (575) 224-1503.
About Taos Ski Valley
Located in northern New Mexico, Taos is one of North America's premier ski and snowboard destinations, with more than 305 inches of average annual snowfall and more than 110 trails. Taos has a relaxed, friendly atmosphere, spectacular scenery, and amazing terrain, truly making it a world of its own. To learn more about Taos Ski Valley, please visit www.skitaos.com.

CFC Approved Charity #45291 
All Not Forgotten Outreach events are alcohol & drug free